Import/Export of Modules
Quickly and easily replicate (or back-up) a complete Custom Module configuration via import/export, including; Settings, Properties, Layouts and Table setup.
Import/Export of Modules provides the ability to work faster when creating duplicate, or even similar, modules across a site or multiple sites - avoiding the tedious data-entry task of setting up properties and all the various settings.
This extension also provides a way to share module configurations with the community and other resellers (providing both parties have the extension installed).
Import/Export of Modules will also duplicate nested module configurations, creating both the parent and child modules assigned in the settings.
When importing a nested Custom Module setup, you'll just need to reassign the child module via the "Allow creating foreign items from other existing Custom Modules" setting.
Enabling
Import/Export of Modules is installed as a site extension and can therefore be enabled from your reseller Portal, via the site instance settings, then under the 'Extensions' tab.
Clicking the "Install" button will move the extension to the 'Installed Extensions' section and activate it for that site.
Once installed, the extension will be available for use via the site admin as detailed below.
This extension is available for PARTNER AGENCY level resellers only.
Uninstalling
From your reseller Portal, via the site instance settings, then under the 'Extensions' tab, clicking the trash can () icon next to the Import/Export of Modules extension will uninstall the extension from the site and move it back to the 'Available Extensions' section.
Unistalling this extension does not affect any previously imported or exported modules.
Admin Interface
Exporting
From the website admin, the extension can be accessed from the 'Settings' tab of the Custom Module to be exported/copied.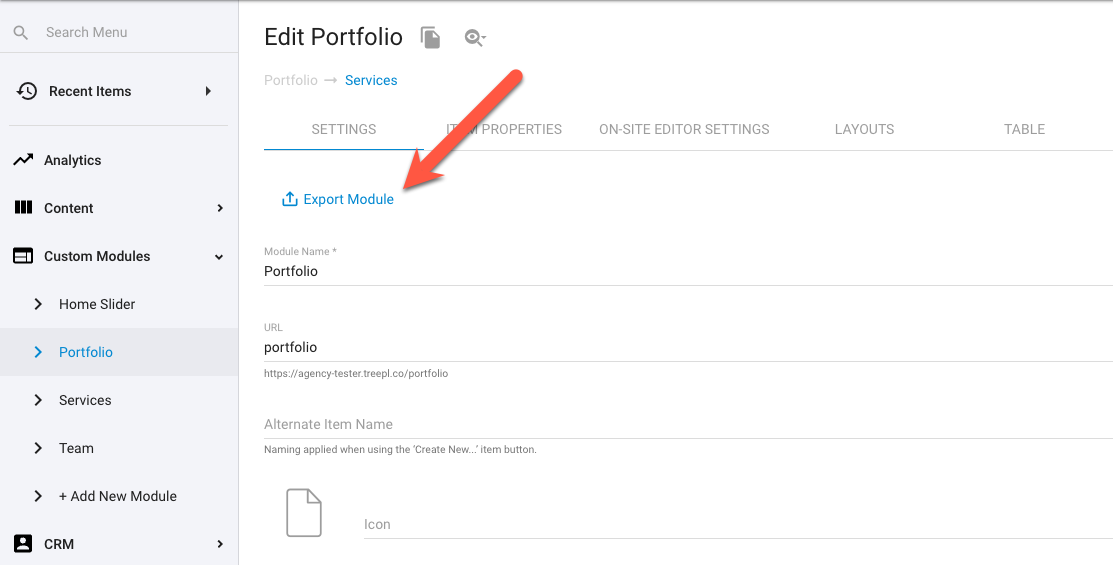 This action will download a JSON configuration file which can then be imported to a site via the extension.
This export does not contain the module's items. The Import/Export of Modules extension copies the module configuration only. If needed, duplication of the module items can be achieved via the regular import/export functionality of the CMS.
Admin Users
Admin User Roles can be configured to control how admin users access and use Import/Export of Modules.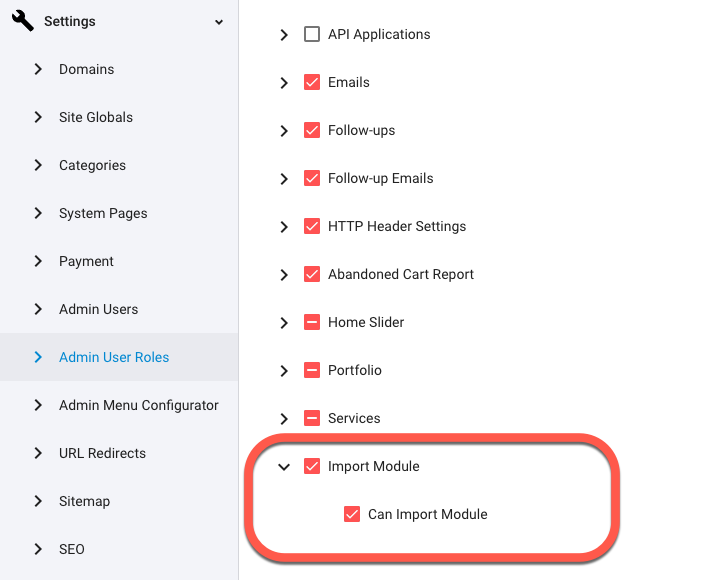 ---
Related Articles
module (Custom Modules)
This module component fetches data relating to Custom Modules.
Custom Modules
Custom Modules can be used to construct simple or complex data structures as a way to dynamically manage the content on your site or web application.
External Resources
There are currently no external resources available.
Please let us know if you have any other contributions or know of any helpful resources you'd like to see added here.
---
Questions?
We are always happy to help with any questions you may have.
Visit the Treepl Forum for community support and to search previously asked questions or send us a message at support@treepl.co and we will consult you as soon as possible.