Direct Billing
Allow your customer to pay Treepl CMS directly for their site plan from the admin, as well as activating the site and assign their primary domain name (if the site is still in Trial Site mode).
Clicking the "Install" button will move the extension unde the 'Installed Extensions' heading and activate it for the site. Likewise, clicking the trash can () icon will uninstall the extension froom the site and move it back to the 'Available Extensions' heading.
Settings
This extension does not have any configuration options from the Portal. This extension functions via the site's admin interface
Admin Interface
If the site is in Trial Site mode, the "Billing" option will become available in the site's admin area, under the gear () icon in the top right of the screen. Your client will be able to see this when logging in to the site admin and initiate their own billing directly to Treepl CMS as well as activating the site and assign a custom domain name.
The activation process, and adding of the domain name, will follow the same process as documented in the Trial Site Activation steps.
If the site is already activated at the time you enable Direct Billing, please contact Treepl CMS support in order to reset the current billing arrangement and enable a new billing subscription set up by the client via the Direct Billing process.
The billing page accessible to your client from the admin will look like the below, allowing them to select their desired billing period (annual or monthly) along with their billing details (for invoice generation purposes - which will be sent to the purchaser).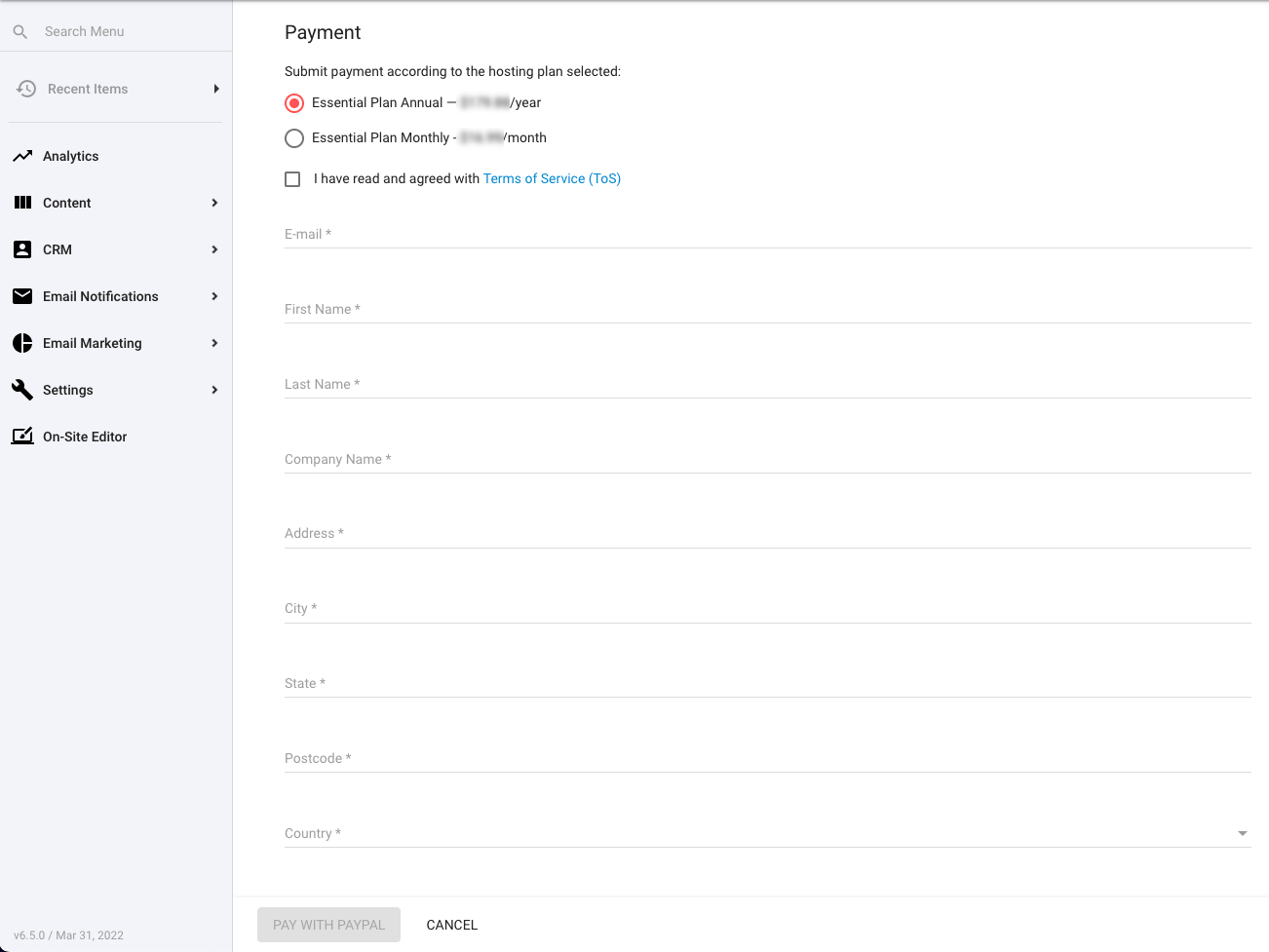 If your reseller level permits, you will also be able to set your commission amounts, whereby your direct billing client will see only your custom pricing and you'll be paid your commission amount. See how to set your Commission amounts here.
Miscellaneous
When Direct Billing is enabled, site subscription renewal notifications will be emailed to the purchaser's contact details provided during the billing set up.
The renewal notification email will look like the below: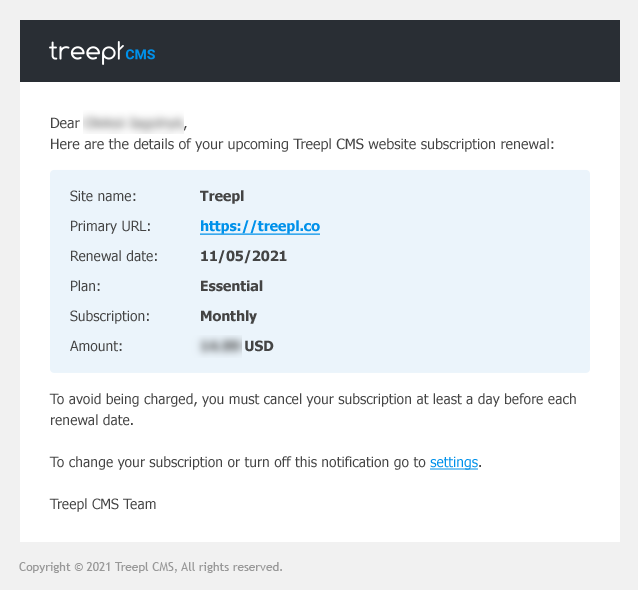 For monthly subscriptions, reminder notifications will be emailed 3 days prior to the subscription expiry date.
For annual subscriptions, reminder notifications will be emailed 30 days prior to the subscription expiry date and again 3 days prior.
---
External Resources
There are currently no external resources available.
Please let us know if you have any other contributions or know of any helpful resources you'd like to see added here.
---
Questions?
We are always happy to help with any questions you may have.
Visit the Treepl Forum for community support and to search previously asked questions or send us a message at support@treepl.co and we will consult you as soon as possible.